Peter Rawlinson 30 August 2022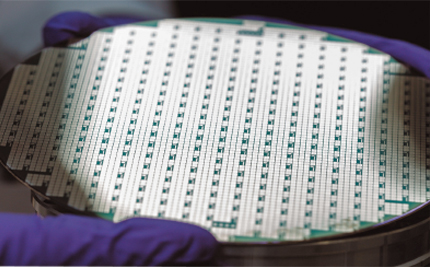 The Institute for Compound Semiconductors (ICS) positions Cardiff as the European leader in compound semiconductors. Here, Professor Peter Smowton, ICS Managing Director, highlights how ICS works with CS businesses to find solutions to technical challenges.
"As a founder partner of CSconnected, the world's first compound semiconductor cluster, the ERDF-funded ICS is collaborating with companies to develop, characterise and test new CS devices.
The purpose–built 1500m2 cleanroom, next door to the brand new, bespoke characterisation labs, that together form the Translational Research Hub on the University's Innovation Campus, will allow ICS to provide a small to medium scale fabrication capacity to complement activity at other CSconnected partners and beyond.
With a full range of technical capability under one roof, on wafers up to 200mm in diameter, the ICS is an ideal development partner for fabless technology development companies.
KUBOS Semiconductors is a stellar example of a successful ICS partnership. The Cambridge-based spin-out is developing a new materials technology for highly efficient LEDs, which are scalable and compatible with existing LED manufacturing equipment and processes.
This technology overcomes a problem with scaling down red microLEDs as used in AR/VR and display applications. Kubos is developing LEDs based on cubic Gallium Nitride (GaN), rather than traditional hexagonal GaN.
It also solves the "green gap" found in conventional LEDs where longer wavelength LEDs in the green and red are significantly less efficient than their blue counterparts.
The cubic GaN material removes the internal electric fields that contribute to the "green gap" in conventional LEDs, significantly improving their efficiency.
Working with ICS, KUBOS operates a fabless business model and therefore chose the ICS to fabricate devices on its cubic-GaN LEDs epitaxial layers, on wafers, ready for testing and characterisation.
As with any development project, reliability, repeatability and a quick turnaround enabling trusted feedback into the development process has been important.
Working with the ICS, and its fellow CSconnected members, Compound Semiconductor Centre (epitaxy) and the CSHub (characterisation), the fabless KUBOS has been able to execute a development campaign that will lead to licensing of its LED technology, whilst maintaining full control of its costs and proprietary IP.
Feedback from Caroline O'Brien, CEO of Kubos, proves the point.
'We are delighted to be working with ICS and see this new facility as a timely addition to support our next stage of growth," says Caroline.
"As a fabless company the importance of strategic partners, coupled with experienced supply chains are integral to our success. ICS provides a professional and state-of-the-art service that meets both our technical and commercial needs."
ICS is in the process of moving from its current 150mm fab to the new 200mm wafer scale fab, working alongside business partners to help address a global shortage of semiconductor chips.
In summary, we have the expertise and capability to translate academic excellence through to practical, manufacturable devices with the aim of generating economic impact through commercial and academic exploitation of CS technologies."
Professor Peter Smowton, Director, Institute for Compound Semiconductors.